Golden Lake Camp is a very special place.  For more than seventy years, campers have come to shores of Golden lake to make friends, have fun and explore faith.  You might be wondering if Golden Lake Camp is right for your child.  We think it is!  And here's why…
Watch our 2023 Golden Lake Camp promo video:
Accom
modations:
Campers will stay in one of our ten rustic cabins tucked into an idyllic hillside setting in the shade of soaring pine trees.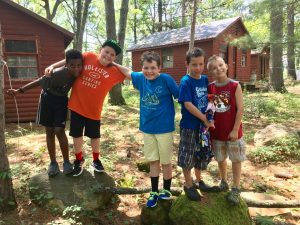 These "homes away from home" house eight or ten campers along with two counselors.  There are bunk beds complete with mattresses.  Cabins are equipped with electricity for lights and fans. The washrooms, showers and dining hall are just a short walk away.
Recently, we have begun to upgrade our cabins with fresh coats of paint and other improvements.
Food: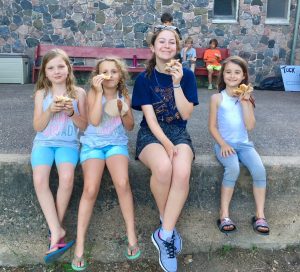 Our food is simple and delicious.  Year after year, camper favorites include Mac and Cheese, Tacos, and even roast turkey with all the fixin's for banquet night.  We are careful to follow Canada's food guide, and there are always healthy options including plenty of fruits and veggies.  Most meals include second helpings, and we provide healthy snacks at other times of the day too.
We do our best to accommodate special dietary requirements.  Gluten free?  Dairy free?  No problem!  With enough notice, we can accommodate these special needs.
Activities:
What happens on a typical day on Mainsite at Golden Lake Camp?  A typical day begins with breakfast, cabin clean-up and morning game. Throughout the day we keep everyone moving with "activitrons" that include activities like archery, canoeing, swimming, crafts and sports.  Each afternoon the campers get to order a favorite treat from the tuck shop, and then they have some free time to relax during "siesta."  After dinner there is either a camp-wide game or a theme night like carnival night or movie night.  While kids stay busy at camp, we also try to slow them down a bit, to delight in the simple pleasures of being away at camp.
At some point during the week, each cabin will leave early in the morning for a nature hike up "Blueberry Mountain" where we enjoy a camp breakfast favorite, "eggs in a basket," cooked on a camp stove on the mountaintop.  It's a perennial favorite!
Staff:
Our staff is the best!  Each counsellor is trained to make your young-person's camp experience a good one.  We have strategies for homesickness (it does happen from time to time), we keep an eye out for inappropriate behaviour and we don't tolerate bullying or harassment.  Our staff work hard at getting to know each camper, and we try to meet them where they're at.
Sometimes campers need a little extra help to get adjusted.  Our top notch team is trained to recognize this and to go above and beyond to help each camper have a "golden" week.
Many of our staff were once campers themselves, and they return year after year to invest in the next generation of campers.
Christian Camping: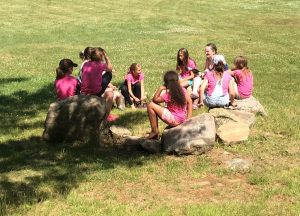 We believe that camp is a great place to grow in relationship with one another and with God.  Each day, campers will enjoy a short time of Christian education, which includes singing, a simple lesson on the Christian story or core Christian values, and an open discussion with their cabin group.  We have a number of ordained United Church Ministers on our Board of Directors who are actively involved in working with staff to develop our high quality Christian education time.
In addition, each meal begins with a sung and spoken grace, to thank God for the food and fun at camp!